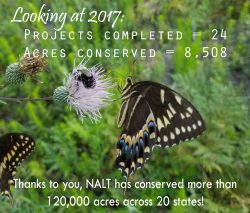 North American Land Trust is our project's intended steward — it does amazing conservation work from sea to shining sea. As land conservators, NALT's victories are impressive, and it's an honor to collaborate with the passionate people it employs. Read more about NALT's recent accomplishments, including its partnership with Boeing. To help NALT endow "Whitman Woods," visit Click & Pledge.
Read the North American Land Trust Winter 2018 Newsletter 
"The 'Whitman Woods' Project: Preserving a beloved lakefront sanctuary in Laurel Springs, New Jersey," Monica McQuail, North American Land Trust, November 9, 2017.
"Back-to-nature preservation plan to honor Walt Whitman in Laurel Springs," Carol Comegno, Courier Post, September 13, 2017
"Saving a Pocket of Enchantment in South Jersey," by Kevin Riordan, Columnist, Philadelphia Inquirer. May 12, 2016
"Spring-cleaning Saturday at Laurel Lake," by Kevin Riordan, Columnist, Philadelphia Inquirer. April 5, 2013