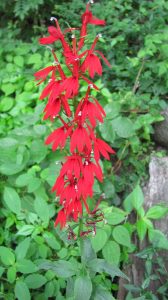 Context:  For more than 40 years, the community has considered this private land a passive park in all but name. Among other compelling reasons for preserving it as open space, the lakefront acreage would formally provide area residents and visitors with the only public lake access along the entire perimeter of Laurel Lake (with the exception of street terminus points). Owned since 1925 by the same family, the land is now held in a private irrevocable trust that is being dissolved.
Conservation timeline:
2006-2009: Camden County Open Space (CCOS) approaches Elizabeth Hanson Kuehner to explore the purchase of 3+ wooded lakefront acres (Block 61/Lot 1 & Block 62/Lot 5; Laurel Springs, NJ) in 2006, but she is too ill to consider it at the time. She instructs her heirs to contact CCOS post her death (which occurred on April 9, 2009).
2010: Family initiates effort to place land into conservancy.
Dec 2010: Borough of Laurel Springs passes Resolution 122-2010, acknowledging "passive recreational use" of the land, citing "such use as precedent since the early 1970s…" and stating its willingness to forego taxes.
Winter 2010-11: Borough confirms support of "Elizabeth Hanson Kuehner Trust's Plans for Passive Recreational Space" in a formal letter. Family makes application to CCOS, including borough resolution & support letter.
Fall 2011: In the interim since application to CCOS in February, the freeholders decree non-contiguous pocket parks can no longer be managed by the county. A CCOS emissary asks LS Council if it will accept land into open space if county provides purchase funds; LS declines citing financial hardship.
2012: In August, family delegates, Delaware River Valley Planning Commission and area residents re-engage with borough to address financial concerns (turnout was standing room only). Benefits of open space formal presentation by Patty Elkis, deputy director of Delaware River Valley Planning Commission citing financial and environmental advantages fails to convince council. In her closing remarks, Ms. Elkis notes that she has never witnessed such a large turnout in favor of open space anywhere in the Tri-state area, and certainly not in a town as small as LS.
Fall 2012: Borough and county advise family to seek appropriate 501c3 recipient.
2013 – 2014: Family reaches beyond conservation circles into arts and letters groups, and locates Walt Whitman Arts Center, headquartered on the Rutgers Camden campus. WWAC wishes to steward Whitman Woods in perpetuity (enlisting South Jersey Land & Water Trust as manager) and county agrees in principle. That solution is complicated, however, by sudden WWAC board deaths and its tax exempt status. It is determined WWAC is best suited going forward as an arts/education community partner.
2015:
MAY:  Family meets with North American Land Trust (NALT), which is interested in the prospect of a Whitman-inspired, small New Jersey-based conservation project; NALT offers a creative stewardship solution.
JUNE: Survey and preliminary appraisals are secured by family; NALT plots site maps.
JULY: NALT completes maps and applies for NBC-Universal Whitman Woods grant.
AUGUST: NALT visits site and hosts subsequent strategy session to guide family through next steps for conservation solution, from prioritizing site plan development, to brainstorming funding targets to underwrite purchase, improvements and endowment. Funding goal is set at approx. $1M. Making NALT affiliation to "Whitman Woods Project" known to borough, county and WWP advisory board is approved, and to-do list is assigned.
SEPTEMBER/OCTOBER: Family enlists additional advisors and pro bono consultants based on the promise of eventual NALT stewardship; meets on site with various advisers and methodically orchestrates moving parts to draft preliminary site plan and vision document for pledges/underwriters. Key media is updated with lid kept on story. Preliminary pledge and underwriter outreach to commence with complete project package.
NOV/DEC: Preliminary site plan map with 1-foot elevations undertaken.
2016:
WINTER:  Whitman scholars join the project; billboard campaign launched.
SPRING/SUMMER:  Wetland delineations and site mapping completed. Site drawings in progress.  Facebook page launched; Web site blossoms.
Note: NALT becomes a potential candidate for CCOS and other grant funding after it assumes ownership of Camden County site.
Lobelia cardinalis (cardinal flower) photograph by Matthew Stutzman