North American Land Trust's strategy
To ensure the successful preservation of land it is essential to establish appropriate stewardship objectives and provide the financial means to achieve these goals. Regardless of whether a preserve is shoreline, wooded, agricultural, meadow or woodland, the old assumption that natural lands can "maintain themselves" or that a "let it be" management approach is the preferred option, is no longer applicable, no longer feasible. Although some properties need minimal maintenance and others require extensive measures to control erosion, restore wetlands or enhance woodlands, all lands merit a management plan and someone committed to overseeing its implementation. Any use, any goal, requires a management presence to sustain the desired result. Committed to land preservation, the North American Land Trust, established 1992, designed a stewardship program to respond to the growing demand for creative solutions to management concerns.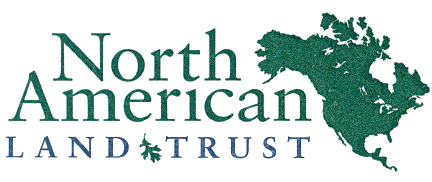 The demand for the Trust's stewardship assistance may come from many sources such as (1) landowners adjacent to NALT preserves (2) landowners who wish to develop their property but who want to preserve environmentally sensitive areas or overall rural character (3) owners who wish to remain on their land, but can no longer manage their properties (4) corporations who are holding land as an investment and may eventually develop portions of the land (5) developers who have included open space areas in their plan but have little interest in overseeing the management of these lands (6) local governments who own natural areas but whose management capability is stretched by the maintenance of active recreational areas.
Utilizing the best current and prudent natural resource management strategies available, NALT's focus is to assist landowners in establishing and implementing stewardship objectives that reflect the unique elements of each property, including the owner's goals and the land's natural features. To appropriately address these issues, the creation of a stewardship plan is the initial step.
Creating a stewardship plan
The North American Land Trust's staff can assist landowners in clarifying their goals and by carefully examining the long-term management options available.  With the creation of any preserve, NALT prepares a stewardship plan, which is built into the project at its inception. The first step is to collect information and create a base map describing the property. This map is prepared using existing information such as tax maps or surveys for boundary delineation and U.S. Geologic Survey topographic maps or aerial photographs for other features such as buildings, streams, shorelines, hedgerows, woodlands and other vegetation.
From an aerial photograph, other sources, and the above information a second natural features map is then produced. This map may include soils, steep slopes, and prime agricultural lands and highlights particular elements of environmental concern such as springs, wetlands or special habitat areas. In addition, NALT examines the properties adjacent to the site noting both natural features and ownership patterns of significance. The Trust believes that each site must be examined in the context of the surrounding ecosystems including certain elements such as disturbance areas and important viewsheds, as well as opportunities for adding to or buffering the preserve.
Utilizing the maps as a guide, this plan addresses the unique natural features of each site and outlines the long-term stewardship goals, responsibilities and implementation requirements. The establishment of clear objectives and the prioritizing of these goals for each preserve is essential. Some questions for consideration may include issues of public access for education or recreation, agricultural crops, horticultural landscapes, timber harvesting of forest species or species diversity protection. Once objectives are set forth, the plan for implementation is outlined. Some properties may simply involve regular monitoring or patrolling, but most are more complex and involve such elements as periodic mowing or planting, trail maintenance or the leasing of agricultural lands. The plan also addresses any particular problems or challenges that might likely surface in the future. Clearly no one is able to foresee all potential problems, but there are usually indications of some issues of concern such as potential negative impact from a surrounding development, invasive species encroachment or shoreline erosion, that should be considered.
Estimating the cost of stewardship
Although it is the last step in creating a management plan, it is perhaps the most vital one and that is the creation of the budget.  Budget requirements are divided into three categories: Basic Maintenance, Restoration, and Programs. In addition to estimating maintenance needs such as posting, mowing, invasive plant control or woodland buffer plantings; this plan also includes other financial items such as security, liability insurance, and caretaker salaries. A goal of the maintenance plan is to set standards for management that are specific to each preserve and that will serve to establish the appropriate endowment needed to attain the stewardship objectives.
In addition to being comprehensive, the management plan strives to be flexible. The natural features of the property will change through time; therefore, the plan must anticipate these changes and be able to respond to the changing needs of the landscape.
Sample Stewardship Plan Components
A well-designed stewardship plan is the means of achieving the long-term goals set forth for the property.  While almost all lands require some form of restoration, basic maintenance and programming, the specific course of action is tailored to each particular property.  Those listed below represent some of the elements that may be involved in managing a preserve.
Initial restoration phase
Objective: To eradicate invasive species, establish a habitat, which will minimize the invasive effect, and improve the ecological value and health of the property.
Tasks:
Removal of undesirable vegetation
Installation of erosion control barriers
Selective and site-specific enhancement of native plant species
Planting of buffer zones
Budget preparation for restoration phase
Annual maintenance requirement
Objective: To protect existing natural features of the site and to promote the proliferation of native plants, thereby providing a diversity of habitat.
Tasks:
Monitoring, patrolling, posting
Selective leaf composting and applications
Soil testing and aeration if necessary
Annual inspection of woodlands by qualified professional
Careful removal of invasive vines, seedlings and saplings
Selective pruning
Removal of dead, dying and diseased trees posing a safety problem
Trail maintenance
Budget preparation for annual maintenance
Possible program development
Objective: To define and prepare, if desired, conceptual plans for major program components of the project such as:
Preserve management center
Network of nature trails
Interpretive nature center
Other educational opportunities
Agriculture and forestry programs
Staff housing